Top 10: Alaska Travel Trends for 2020


Many of our Alaska travelers are incredibly experienced, having cruised the Caribbean, Europe and elsewhere. Today, they look for more adventure in their journeys. So, here's what we're seeing as Alaska's top travel trends for 2020.

1. New Itineraries & Destinations
Every year new adventures keep our Alaska cruise travelers' excited about travel. Here are the most recent additions to our list of cruises & cruisetours:


New Cruisetour Adventures:
These Cruise Deals Offer Endless Memory Making Adventures
Complete your Alaska adventure with a small-group tour into the breathtakingly beautiful inland destinations.
From North America's tallest peak, Denali, to the stunning coastal route of the Inside Passage, Alaska is one of the most breathtaking and pristine wilds left on Earth. Years of immense weight and pressure have made gorgeous glacial valleys and carved out captivating river canyons. Head to Seward to see where icy waters meet bright green lands. If you're looking for Alaskan adventure, journey into Denali National Park and catch a glimpse of roaming brown bears and moose.
To learn more about the state's cultural past, take a day trip to the Alaska Native Heritage Center in Anchorage. You'll find history and adventure everywhere in Alaska with your cruise.
• Alaska's Ultimate Vacation: 7 Day cruise and 8 day land tour : Juneau, Ketchikan, Skagway, Kenai, Cooper River ( escorted with meals included on land tour ) - 15 nights
• Katmai Bear Trek & Kantishna Fly Over : Inside Passage (Cruising), Canada, Ketchikan, Icy Strait Point, Juneau, Skagway, Hubbard Glacier (Cruising), Seward - 12 nights
• Family Tundra Express Cruisetour : Inside Passage (Cruising), Ketchikan, Icy Strait Point, Juneau, Skagway, Hubbard Glacier (Cruising), Seward, Alaska - 10 Nights
• Yukon+Triple Denali : Anchorage, Denali National Park, Fairbanks, Dawson, Whitehorse, Skagway, Glacier Bay, Cruising The Inside Passage, Vancouver - 14 Nights

New Cruise Only Adventures:
• Alaskan Spring : Vancouver, Cruising the Inside Passage, Ketchikan, Sitka, Skagway, Cruising Hubbard Glaciers, Juneau, Prince Rupert, Victoria - 10 Nights
•Ultimate Alaska Cruise : Inside Passage (Cruising) ,Ketchikan, Sitka, Skagway, Icy Strait Point, Juneau, Endicott Arm ,Victoria - 10 Nights
•Alaska's Glacier Adventure: Endicott Arm & Dawes Glacier (Scenic Cruising), Skagway, Icy Strait Point, Hubbard Glacier (Scenic Cruising), Juneau, Sitka, Alaska, Ketchikan, Prince Rupert, Victoria - 12 Nights
2. Share the Adventure
More and more of our cruise travelers are choosing to bring friends or family member along to share the adventure. Cruise Connections, for small groups ( as few as 3 cabins ) bring loved ones and neighbors together, while Multigenerational Tours create family reunion opportunities for travelers of all ages to experience the whales, wonders and wildlife of Alaska.. And, it's always more fun when you turn moments into memories.
3. Personalize Your Experience
For many travelers, an Alaska cruise is just one part of a more extensive journey. We give you the freedom to personalize your experience, adding a guided, organized, independent or personally customized 3 -10 land tour combined with your 7 day cruise to help you truly make it your own adventure. Visit Alaska's most popular destinations like Juneau, Fairbanks, Ketchikan, Hubbard Glacier, Tracy Arm, Denali National Park, College Fjord in Prince William Sound, Talkeetna, and Anchorage. Then choose to visit smaller, more remote adventurous destinations like Sitka, Cooper River, Kenai, Haines, Dutch Harbor, Kodiak, Yakutat Bay, Wrangell-St. Elias National Park, or explore Canada's Yukon Territory .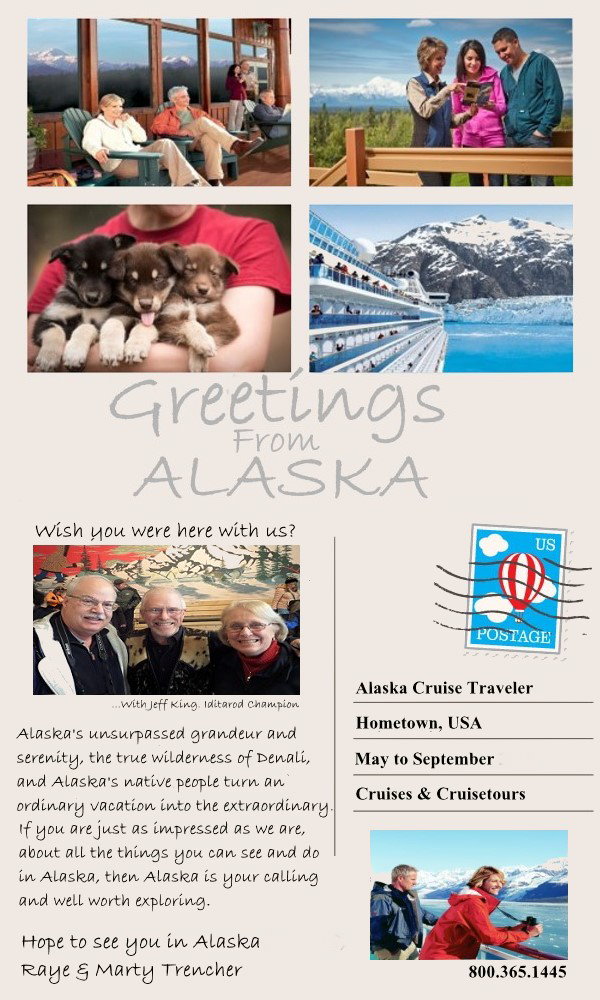 4. Riding the rails. It's an experience in itself.
A breathtaking journey by rail through Alaska's most precious, untouched wilderness. Venture onto the observation platform to watch the peaks of Denali rise up in front of you. Or grab a window seat to catch a glimpse of moose disappearing into a densely-packed forest. No other cruise line offers it - Direct-to-the-Wilderness rail service from your Princess cruise ship in Whittier to our Denali-area lodges. A luxurious glass-domed rail car whisks you away through dozens of picturesque rivers, meadows and mountain ranges. Miles and miles of spectacular scenery awaits as you soar along the original route of the Alaska Railroad. At the end of your journey, you'll arrive at one of Princess Wilderness Lodges for an overnight stay(s) in the heart of the Great Land, where you'll wake up amongst the scenic wonders that breathe life into Alaska.

Perhaps you just want to add an optional extension of a night or two - pre or post cruise - or perhaps you prefer more time to explore Alaska independently. Whatever you want to do, we can help plan your Alaskan adventure.

5. Go off the Beaten Path
Some of Alaska's most iconic destinations struggle at the height of the season dealing with excessive crowds. These destinations are still a "must see" but there are so many more destinations just under the radar that are worthy of your attention. For some, this literally means visiting Nome, The Arctic Circle, Dutch Harbor, Kenai- Katmai National Park and Preserve, or Cooper River- Wrangell-St. Elias National Park.
6. Share Videos, Stories & More
Every year, our Alaska cruise travelers are very tech savvy, sharing videos, photos, and stories of their travels online—often from their cruise ship or wilderness lodge during their trip. Many are on Facebook. Share your photos and videos with our online community, by adding your videos, stories to our Facebook page.

Videos in particular offer a firsthand glimpse of what you've experienced on one of our Alaska adventures. So, submit one to our Facebook page, that way our Alaska cruise travelers can learn from them and consider your experience in planning their Alaska journey.
Tips on filming/submitting videos:
•Videos 4 minutes to 6 minutes are the proper length!
• Shoot your video horizontally.
•Consider weather conditions when filming:
• On windy days, you may have to reshoot to avoid audio issues.
• Always shoot with the sun behind you.
• Edit your footage and include music in your video.
•Feature the interactions you have had with Alaskan wildlife.

7. Art, Culture & History Interest More People
More people want to learn more about the art, culture and history or Alaska. If you prefer to visit places where people practice customs different from your own, Alaska offers endless options. Alaska visitors can experience the state's unique Native culture through many avenues including totem carving, Native dancing, the blanket toss, traditional music, crafts and festivals as well as cultural and historical museums, heritage centers and academics. Whether you want to explore Alaska's vibrant Native culture or other artistic and intellectual attractions like music festivals, local artisan handiwork, Russian iconography or museum exhibits, a long list of things to do and see awaits you..
Experiential Travel Is Popular with Millennials
Today's travelers aren't content to just visit Alaska's iconic towns, cities and famous landmarks. Of course, many Alaska adventures include the "must-see" highlights, but our millennial cruise travelers feel it's important to delve deeper into local culture which means getting into Alaska's small towns and villages to witness the everyday lives of the people. Let us know if there's a particular aspect of local culture of interest to you, and we will help you find one or more of these unique learning experiences.
8. Wildlife Viewing is Up!
No doubt: Getting to see a majestic brown bear snatching salmon from an Alaska stream is the memory of a lifetime. But as iconic as these massive land predators are, they're just the start of what Alaska has to offer. Keep your eyes peeled for soaring bald eagles, colorful puffins, stately sandhill cranes, shy black bears, acrobatic humpback whales and of course the regal, knobby-kneed moose, the largest member of the deer family. Other types of wildlife are less common, but all the more exciting for their rarity. Alaska's broad, uninterrupted swaths of wilderness are home to animals like lynx and wolves that are usually so shy, even locals are thrilled to catch a quick glimpse. And don't forget about the smaller animals: From wood frogs with antifreeze in their veins to the tiny collared pika, which spends its summer harvesting piles of hay to be used as food during the winter, Alaska's smallest year-round inhabitants have made astonishing adaptations to living in this northern climate.

Some of Alaska's best wildlife sights are seasonal: Every spring, locals and visitors alike crowd onto day cruises in hopes of seeing gray whales migrating to their feeding grounds in the Beaufort and Chukchi seas. And if you travel to the state's northern reaches, you might be lucky enough to see caribou traveling in herds so large, they blot out the horizon. Needless to say, make sure you bring a pair of binoculars and a good camera. You won't want to miss making a single photograph or memory on your Alaska wildlife watching tours.
Alaska Shore Excursions
Alaska Adventures : Alaska Fishing, Alaska Kayaking , Alaska Rafting, Alaska Bear Viewing,
Alaska Helicopter Tours, Alaska Hiking, Alaska Wildlife Viewing

9. Small Ship Travel
Small ships sailing Alaska are growing in demand. These small ships have access to ports the larger ships simply can't reach. Think native villages, remote islands and close-up wildlife viewing. Operators include: National Geographic - Lindblad Expeditions, Windstar, and Uncruise Adventures to name a few. As an example, American Constellation, built in 2017, carries 175 passengers through Alaskan waters. Most of the staterooms have private balconies and rooms range from 226 to 450 square feet -- they're billed as being among the largest in the Alaska arena. There's elevator service to all decks, a boon for seniors. Round trip sailings out of Juneau, or between Juneau and Seattle, could include stops in Glacier Bay, Icy Strait Point, Petersburg, Sitka and Tracy Arm. Windstar's Star Legend, with 200 passengers, carries several Zodiacs and kayaks for up-close exploration of remote fjords. A five-person expedition team leads kayak and Zodiac tours and offers regular lectures about Alaska, its people, flora and fauna.
10. Travel in Alaska
Unlike just about anywhere else: getting from point to point is a worthy endeavor of its own. Whether circling Denali in a bush plane or watching miles of untouched tundra roll by from the window of a train, you can't go wrong in selecting a mode of transportation. In fact, the best itineraries include a mix of travel modes. When traveling by air in-state, the major airports of Anchorage, Fairbanks and Juneau partner with private flight operators to provide service to small communities, villages and remote areas. Flightseeing is a popular tourist activity; private air carriers provide wilderness and glacier tours as well as service to private, fly-in fishing resorts. Sea travel offers a spectacular way to travel through magnificent scenery, with the added bonus of seeing Alaska's treasured marine life. A variety of private cruises are available for day excursions or multi-day trips. Wildlife and glacier tours, historical ferryboats and smaller cruise ships are popular types of private cruises.

The locals' favorite for traveling by sea is the Alaska Marine Highway System (AMHS), an affordable, informal option to reach 25 ports of call in the state. The ferries accommodate cars, RVs, motorcycles, bikes and walk-on travelers, and offer multi-day mainline routes and shorter day boat trips from port-to-port.
sources: Travel Alaska, Alaska Cruise Lines, Cruise Traveler Magazine
---